 Illig was first formed in Germany in 1946 and has since grown into a worldwide organisation with representatives in over 80 locations and employing over 1000 staff.
Often described as the 'home of thermoforming' due to it's early entry into the market and continuing technical development over the last 70 years. Throughout this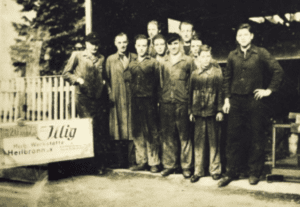 period of consistent growth Illig has remained true to it's core values, the core values of thermoforming itself; productive, clean, energy efficient and sustainable. This focus led to the assembly of the first vacuum forming machine Type UA 100 in 1956, followed in 1960 with machine type R 650 the first automatic vacuum forming machine working from roll stock world wide. In the subsequent years the company continued this strive for innovation and this period saw numerous advancements and inventions, notably the RDM series of machinery and at the end of the seventies, the first packaging line.
Illig UK Ltd's formation began with the mortimer agency in the 1960's which through continued growth became Illig UK ltd in 1983, originally based in Hemel Hempstead. The current company relocated to Yaxley in 2012 and currently looks after over 580 machines with over 180 active customers. We have over 50 machines for sale across our 6 product groups . Our service department not only supports all of these machines but provides training, spares and an office hours support hotline.
A message from our MD, Tom Price
I am passionate about ILLIG and building on an already strong foundation.

Growing up my father was in the automation industry providing solution to the manufacturing industry. As I got older, he became a role model to the direction I wanted my career to go. Geoff noticed this potential when I came for my first interview and took me on board to nurture my potential.

My aspiration with ILLIG UK is to continue to go on existing foundations which is credit to the management of the company in the past 30 plus years. With todays economics the market is a changing beast, my aims are to introduce new processes and restructure to continue to provide the best solutions for our customer base.