Welcome to the new look illig.co.uk. At Illig UK ltd we have had an active presence online since 1999 (just imagine, there were websites in 1999!) we decided it was time to revitalise and update our existing website.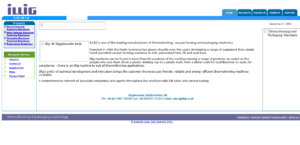 The new concept was created to take a dual approach in informing customers of our existing range of machinery, illustrating how our machines can be used across a number of applications and alongside of this, categorising our range of machines in terms of the functions they perform. We've tried to cover the majority of sectors our machines are used in including; sheet processing machines, cup machines, form cut stack machines, packaging machines, form fill seal machines and tooling.
We also thought it would be useful to categorize our range of machinery in terms of the function or the application, to give a thorough indication of not only what the machines are, but the items they produce and industries they serve. We aim to expand these sections in the future by providing specific case studies and further detail across each of the thermoforming applications. We've been keen not to overload on the information but if we've missed anything, please don't hesitate to get in touch and let us know.
Beyond purely the machines, we've also built a simple order form for spares, access to our service department and we will soon have full details of all our available training courses.
We aim to treat the site as a living document that will be updated and developed as time goes on, be sure to check back here for updates or catch up with all developments on Linkedin.